ABOUT THE WEBINAR
Taxables have returned as a major component of today's forward calendar. These offerings attract a wide variety of interest that spans traditional muni holders, corporate buyers, and international investors.

Hal Burger is one of the most experienced credit analysts in the muni market. Now in a senior role at Putnam Investments, Hal has previous experience at Fidelity Investments, AllianceBernstein, and Standard & Poor's.

In addition to covering state & local governments, utilities, tobacco bonds, and tribal government issuers, Hal is also responsible for researching corporates that issue tax-exempt bonds.
Hal will detail his unique experiences working with municipal and corporate issuers on both taxable and tax-exempt offerings during this webinar. Issuers who understand the similarities between these markets and recognize what researchers expect from both types of sellers can gain a meaningful advantage with the buy-side.

This corporate perspective could be particularly critical if the Build America Bond program is re-authorized by the federal government. It's also valuable for issuers who seek to make inroads with international buyers when issuing Green Bonds or with investors who focus on ESG factors in their evaluations.
Here's what you'll learn:
Distinct strategies to attract taxable investments that municipal issuers can borrow from their corporate counterparts

The information that taxable buyers prioritize from issuers

Effective ways to ensure corporate and international buyers are aware of your municipal sales
Even if you can't make the live session, sign up anyway and we'll send you the recording.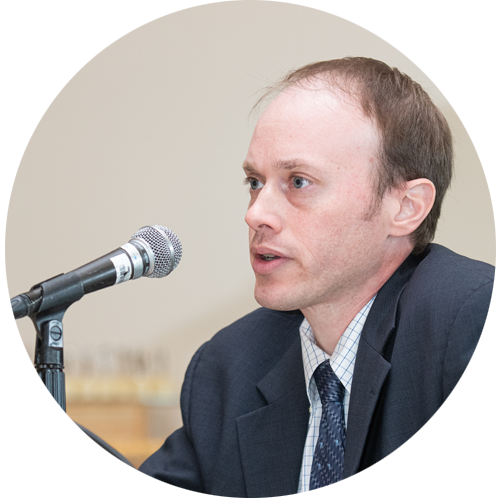 Harold Burger
CFA, Analyst, Putnam Investments, LLC
Harold B. Burger, CFA, is a Tax Exempt Bond Analyst in Putnam Investments' Global Credit Research Group. Mr. Burger is primarily responsible for covering the transportation, utilities, project finance, MSA tobacco securitization, prepaid gas, and tribal gaming sectors, as well as select corporate sectors (airlines and regulated IOUs), for Putnam's municipal bond mutual funds.
Before joining Putnam, Mr. Burger was a Research Analyst at Fidelity Management & Research Company and a Municipal Bond Credit Analyst at AllianceBernstein. Mr. Burger began his career at Standard & Poor's as a credit analyst covering the tax-backed, water/sewer utility, and public pension/OPEB sectors in the State and Local Government Group.
Mr. Burger earned Bachelor of Arts degrees in Public Policy Studies and Writing for Television, Radio and Film from Syracuse University. In addition, Mr. Burger earned Master's Degrees in Public Administration and Economics from Syracuse University's Maxwell School.
ABOUT THE 2021 INVESTOR WEBINAR SERIES
Throughout this webinar series, we'll connect issuers with our top network of large investors and other experts that span the entire municipal market. You can participate in in-depth discussions, hear how other organizations are approaching the current market, and learn what you should be focusing on today to better engage buyers.

No one can predict the future, but you can be prepared with ideas, best practices, and more to take on whatever comes your way. Having more knowledge on your side can only help.